UK Environmental Enforcement Officers Work with Inrico PoC Radios
2022-09-13 17:15:56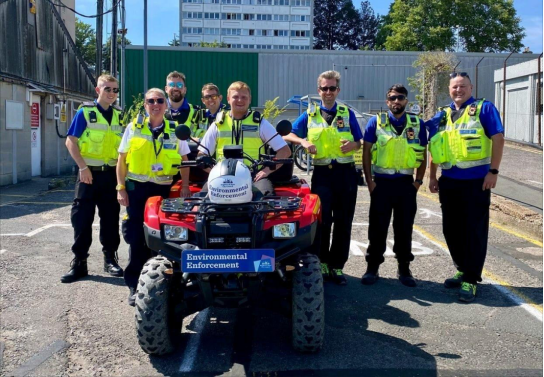 Environmental enforcement officers wearing Inrico S200
The environmental enforcement contributes to the local authority's objective in reducing environmental crime, noise and nuisance and other environmental issues. Environmental enforcement officers conduct high visibility patrols across community areas that they serve, interacting and developing community knowledge, tackling areas at risk of environmental crime. They undertake tasked duties such as proactive and reactive patrols, responding to service requests or taskings as directed by the management team.
Their work is not without dangers. To do their jobs effeciently and safety, they require personal protective equipment and mobile team communication devices such as two-way radios. While traditional two-way radios are powerful in on-site instant team communications, they have limitations too.
lThe enforcement area has a wide coverage, and there is a problem of signal attenuation. It's obvious that traditional two-way radios just cover a relatively small area, which is not sufficient. A dedicated two-way radio system covering a large area requires big budget infrastructure.
lThe needs of multimedia communication are increasing. Video and photos are important for dispatchers and team members to understand the situation on site.
lAccurate positioning of the mobile personnel is key to ensure their safety. When a conflict occurs, the dispatcher can deploy personnel to support in time.
As the flagship model of the Push-to-talk over Cellular (PoC) radio, Inrico S200 stands out among many options in the market.
lCarriers' 4G LTE enables global mobility through a global server network, covering areas that two-way radio systems cannot reach.
lS200 works with iConvNet™ platform, which can realize seamless connection of multiple systems, including traditional two-way radio, PoC radios of other brands, telephone, video surveillance, drones and etc.
lWith accurate GPS positioning, integrated command and dispatch functions such as electronic fence, terminal positioning, and frame selection call can be performed through the dispatching console.
lThe front and rear cameras can clearly capture the situation, and support video calls.
Key benefits of iConvNet™ unified communications platform are explained as follows.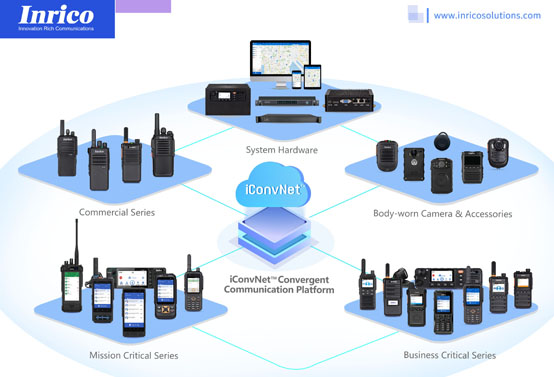 l All-in-one system
Inrico iConvNet™ is a unified command and dispatch platform that enables seamless connection of multiple systems.
l Full featured
With various functions of the unified communication platform such as GPS, multimedia IM messaging, SOS alarm, and inspection, it can meet different needs.
l Safe and reliable
The security and authenticity of the platform is reflected in the following aspects:
üSafe access
üSecure and reliable transmission
üStable server software
üStrong infrastructure
üSheltered data
Inrico iConvNet™ platform are widely used in logistics, security, energy, public utilities, and other industries. It plays an irreplaceable role for team communications, management, and empowerment. Its stable, compatible, and secure features are recognized by more and more customers.