What Is Secure Internet Gateway and How Does It Benefit Us?
2022-04-29 16:52:32
With an increasing number of organizations incorporating cloud-based networking into their everyday operations, there is a need to protect your assets (on-premise and on-cloud) that are virtually accessible. Nowadays, many organizations seek integrated hybrid models to achieve information protection and data transmission.
Secure gateway systems are a crucial part of your network data transmissions. They serve as a checkpoint between incoming and outgoing network traffic to ensure that external threats do not compromise your vital and sensitive information. A secure web gateway or secure Internet gateway uses a range of cybersecurity measures to defend network users from external threats, as long as providing fast and reliable data transmission.
Why Do We Need Secure Internet Gateways?
On the one hand, all networks must employ a secure Internet gateway to protect their data and users' data. The intensity and frequency of cybercriminal activity have grown exponentially over the past few years. New, complex, and more sophisticated threats are emerging that can easily bypass network security, so secure Internet gateways are accountable for protecting the information.
On the other hand, the soaring demands of wireless communications urge people to pay more attention to up-to-grade Internet gateways to fulfill their ever-growing requirements. For instance, they require a reliable private gateway, easy to operate, suitable for integrating communication, and can efficiently dispatch the whole system. And that's where the secure Internet gateway comes in to help.
Inrico DR10 Secure Internet Gateway to Fulfill All Your Needs
The Inrico DR10 is an excellent example of a reliable appliance-based secure Internet gateway. This Internet gateway is specifically geared toward providing connectivity between LMR/DMR and PoC. It not only allows for the seamless connection and expansion of a hybrid communication system but also protects the vital data being transferred through the same connection.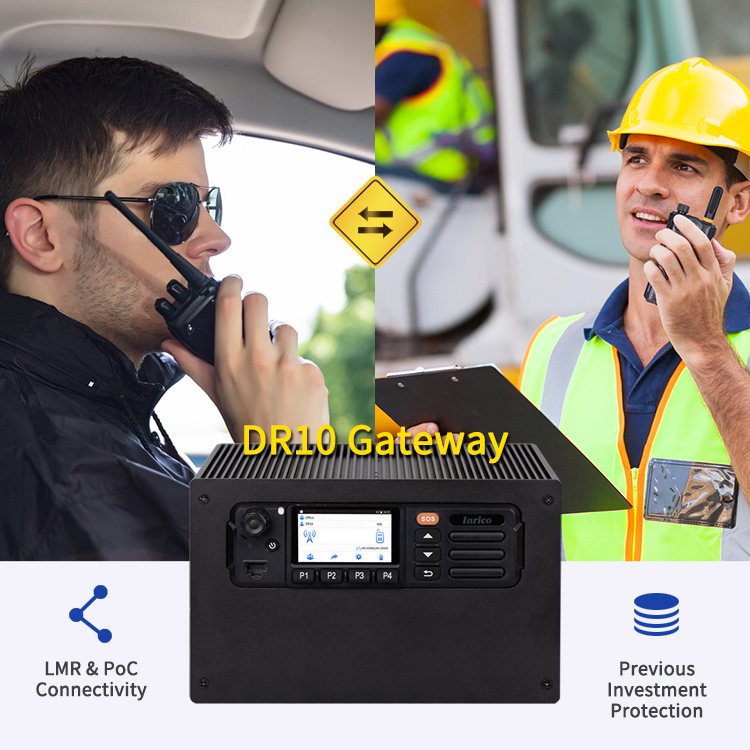 If you are considering using PoC and DMR integration devices in special places, including police, security, emergency, and healthcare, you must use a trustworthy gateway security provider. A reliable provider can protect the data and information being relayed across the network and block out malicious network traffic from intercepting this information. It is where the Inrico DR10 steps in. Here are some of the few benefits the DR10 provides to its users:
1. Achieve Hybrid Communication between DMR & PoC
The DR10 acts as a gateway that allows for the seamless connection between DMR and PoC devices with its signaling. It allows for a hybrid and unified communication between users who use two different communication systems, DMR and PoC.
2. Protect the Data and Information
The DR10 secure Internet gateway will allow for transparency in communications. It allows the PoC and DMR devices to feature Caller ID displayers, so it is easier for professionals moving around to identify who they are communicating with from their network. In addition, it ensures users transmit data and information in a fast and reliable way, which will further help protect data and information.
3. Simplify the Process to Ensure Efficient Transmission
The DMR and PoC integration was once a complex wireless communications product. The Inrico DR10 has provided a solution to this complexity by simplifying the way PoC and DMR devices are interconnected. Moreover, the DR10 offers quick installation and easy operations that users can easily utilize without guidance.
Inrico: Your Secure Internet Gateway Solutions Provider
Inrico, established in 2004, is one of the world's leading developers of PoC solutions and technologies. We provide users with a wide range of professional wireless solutions that ease telecommunications at all levels.
Our intelligent, secure Internet gateways and other related convergent communication products allow users quickly and automatically connect to their command centers. Our solutions are being used by all types of users, particularly those that work in the transportation, security, hospitality, manufacturing, and municipality service sectors.
Check out the official website today to get more insight into the solutions Inrico offers.