Inrico Empowers Safe and Efficient Operation at Nanjing Petrochemical Plant
2023-06-07 09:21:25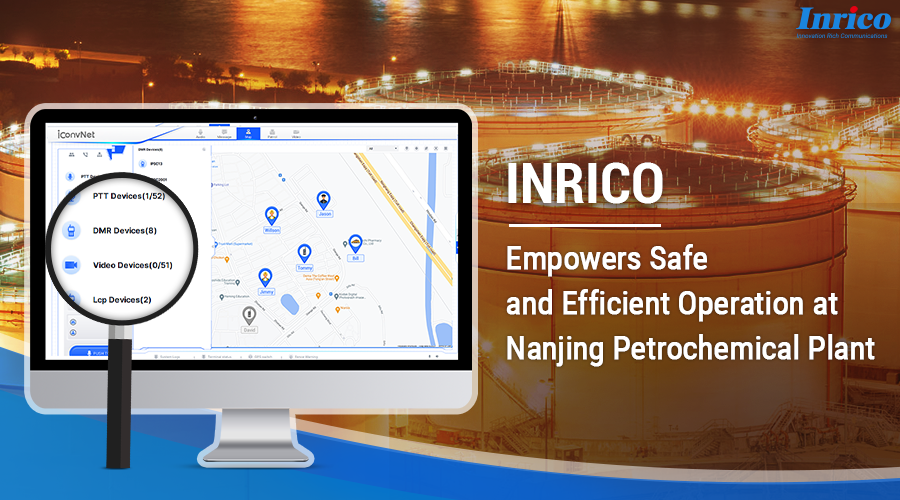 The petrochemical sector, known for its meticulous division of labor, rigorous procedures, and complex processes, demands utmost safety and protection of its production activities. Traditional wireless communication systems have struggled to keep pace, prompting the need for a comprehensive and efficient solution.
Nanjing petrochemical plant had relied on a digital trunking two-way radio system in the past. However, the system's communication distance limitations, scarcity of spectrum resources, and the absence of data transmission services had become glaring shortcomings. Compounding the issue were the high equipment maintenance costs. Recognizing the need for a transformative solution, the plant turned to Inrico and adopted their DMR-LTE convergent communication solution.
The implementation of Inrico's solution enabled the petrochemical plant to achieve interconnection and unified dispatch between different systems, resulting in significant enhancements to work and maintenance efficiency. The key features of Inrico's solution played a crucial role in this achievement.
One of the standout features is the private deployment that ensures data security and control. Inrico strategically deploys servers in accordance with the enterprise's internal network environment, facilitating seamless intercommunication between internal and external networks. Operating over public cellular networks, the solution guarantees privacy and security of internal communications within the enterprise. With local hosting and storage options on either local or cloud servers, the owner maintains control over their data while minimizing the risk of information leakage.
Inrico's integrated command and dispatch platform empowers real-time order dispatch to online terminals. Leveraging the terminal's positioning module, the command center can conveniently visualize the location information of each terminal on a map, streamlining personnel management and dispatching. Moreover, the DMR-LTE convergent communication solutions allow for the common use of digital/analog push-to-talk devices and smartphones, resulting in unified management, improved work efficiency, and reduced maintenance costs.
Full-coverage communication is a critical requirement for petrochemical enterprises, and Inrico's solution excels in this regard. The DMR-LTE convergent communication system ensures seamless communication across the entire plant area, meeting the mobile communication needs of operators and optimizing production scheduling efficiency. Whether indoors or in outdoor work areas, employees can communicate effortlessly, facilitating instant collaboration and ensuring a smoother and more efficient production process.
Efficient coordination between various departments is a key aspect of success in the petrochemical industry. Inrico's wireless communication solution allows employees from different departments to communicate anytime and anywhere. Whether it's transmitting production instructions, troubleshooting, or reporting work progress, these tasks can be completed promptly and efficiently, greatly improving cooperation and collaboration between departments.
To ensure safety supervision, Inrico's dispatching system includes video and audio data management. Communication data is stored and encrypted, serving as a valuable resource for future problem tracing and analysis. By reviewing stored communication data, petrochemical companies can monitor employees' calls, proactively identify potential issues, and take corrective measures. Furthermore, this feature aids in maintaining the enterprise's reputation and complying with industry regulations, ensuring the communication process remains legal and transparent.
Inrico remains committed to providing more comprehensive and advanced solutions to meet the growing needs of petrochemical companies. With its focus on continuous innovation and high-quality services, Inrico aims to establish long-term partnerships with the industry, delivering an exceptional wireless communication experience to industrial professionals.